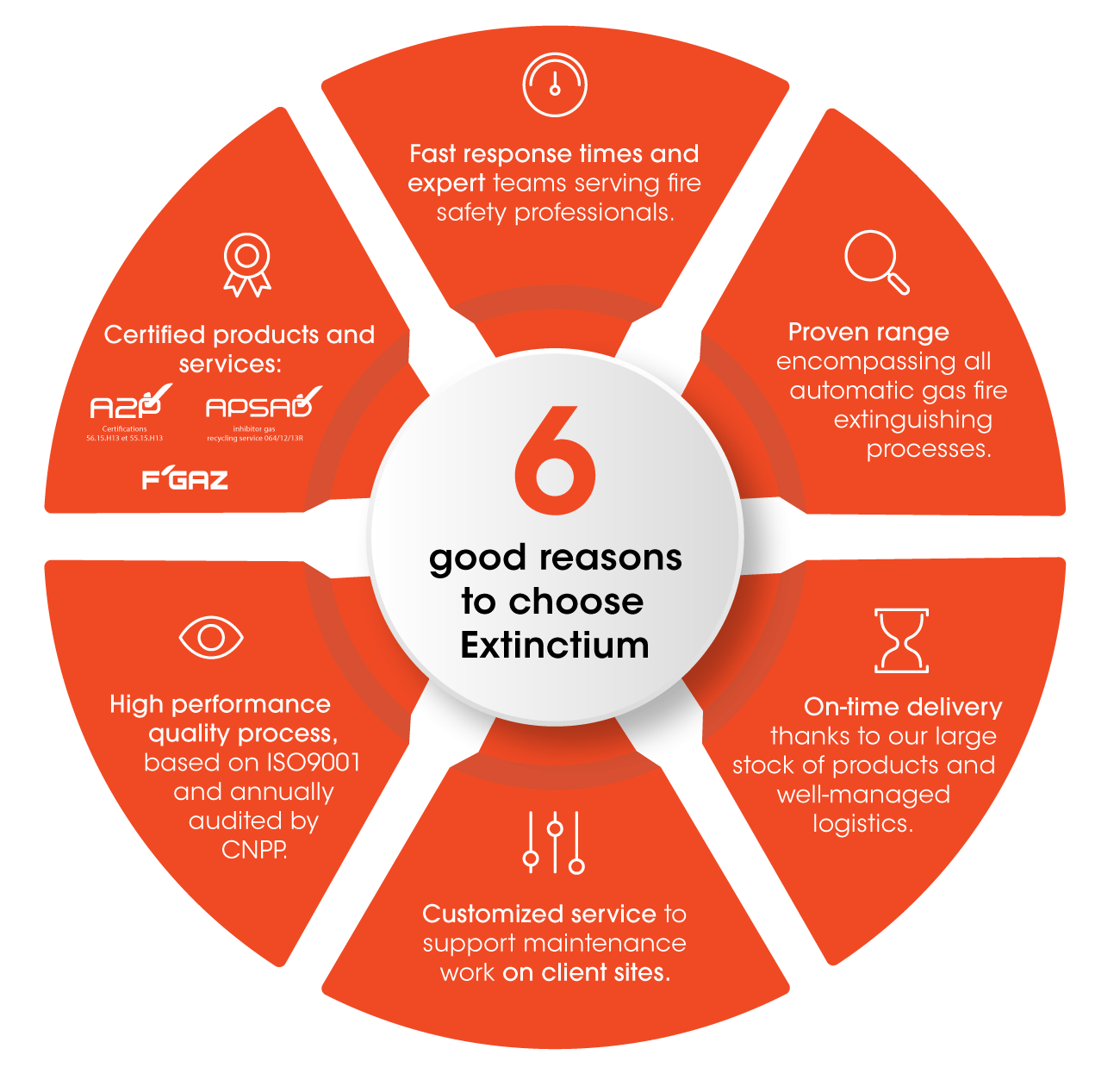 Founded in 2012, Extinctium offers a wide range of gas fire extinguishing systems and provides the associated refill and reconditioning services, as well as periodic verifications of valves and tanks.
Based in Méry-sur-Oise, to the north of Paris, Extinctium's mission is to support installers specializing in fire safety by offering them support during the design, installation and maintenance of their gas fire extinguishing systems. This collaboration guarantees the compliance of the operator's system and an optimal quality of service.
Certifications
Extinctium is committed to working in accordance with standards and with regulations in the profession. To that end, the company holds multiple business certifications:
F-Gas certification no. 025/16/211E for the installation, maintenance and dismantling of fire extinguishing systems containing fluoride gases, since July 2016;
APSAD certification no. 064/12/13R for the recycling of inhibiting gases, issued by CNPP.
Extinctium also holds solution certifications:
A2P systems certifications no. 56.15.H13 and 55.15.H13 for the regulated IG55 200 and 300 bar range;
VdS certification for the components of inert ranges, CO2 and inhibitors.
This double certification guarantees Extinctium's professionalism and expertise in meeting legal and regulatory requirements.
R&D
Each year, Extinctium's R&D team designs innovative solutions to meet our clients' specific needs. The latest innovation to date: a noise reduction nozzle, or "whisper nozzle", that reduces the noise generated during the emission of the extinguishing agent to as low as 30 dB to preserve the data stored in the protected room. This optional nozzle has received A2P certification from CNPP and is particularly recommended for the protection of hard drives.
DEF Network
Extinctium is part of DEF Network, an international independent network of companies which are experts in fire safety, that offer a comprehensive fire safety systems portfolio, covering not only fire detection and extinguishing, but also the related areas of expertise: supervision and web services, mechanical smoke extraction, voice alarms and public address, exit management, security and video protection monitoring.